A Heartfelt Thank You to First Interstate Bank: Making Weekends Brighter for Johnson County kids!
Today, we want to express our heartfelt gratitude to First Interstate Bank for their unwavering support in filling weekend food bags for JC-FFF.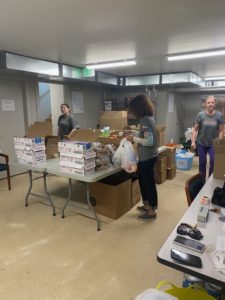 September 13, 2023 was First Interstate Banks Volunteer Day.
Every year our local branch closes it's doors for the afternoon and sends their employees  out into the community to give back to causes that are close to their heart.  They helped serve the Senior Center, Bread of Life Food Pantry, the Johnson County Library as well as helped paint the castle along the walking trail!  First Interstate Bank is not just a financial institution; it's a pillar of community support. Their commitment to helping those in need extends beyond their banking services. The FIB team regularly participates in volunteer activities, and their involvement in JC-FFF's mission is a shining example of their dedication to our community.
A Generous Grant for a Worthy Cause
In addition to their hands-on involvement, First Interstate Bank has extended their support to JC-FFF in the form of a $500 grant. This grant serves as a financial lifeline, helping JC-FFF procure the necessary food items to fill weekend food bags. With this generous contribution, FIB has further solidified their dedication to eradicating hunger in our community.
As we express our gratitude to First Interstate Bank, we are reminded that when communities and organizations work hand in hand, positive change becomes a reality. FIB's ongoing support is not only filling weekend food bags but also filling our hearts with hope and gratitude. Together, we can make a difference, and First Interstate Bank is leading the way in showing us how it's done.