The 2nd Annual Race for the Rest of Us is in the books!
It was a fun family afternoon in Buffalo at our 2nd annual Race for the Rest of Us!  Our racers, made it through the rigorous .5K with enough energy left over to enjoy a delicious meal catered by Southside Grill.  Thanks Southside!
The race started at Crazy Woman square where everyone checked in and got there new race t-shirts from our registration team.  The race route went down Angus street, following Clear Creek, past Prosinski park, crossing Burritt street to the park where everyone stopped to carb load at the donut station near the horseshoe pits.  It's a good thing too because that last stretch of the race was mostly uphill!  Racers raced through the park, past the bridge and ended up at the shelter next to the city pool.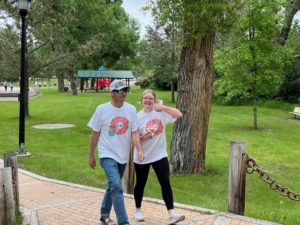 Lynne Young and the Really Something String Band brought out the guitars, banjo, and fiddle to play some amazing bluegrass music, while we enjoyed drinks and dinner.  Those gentleman are sure talented!  We thank you for your generosity and braving the rain to come and play for us.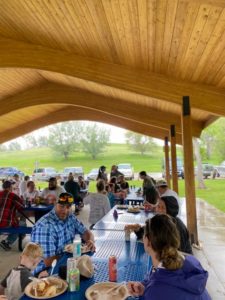 If you live in Buffalo, you know that we've gotten rain nearly everyday.  Race day was no exception.  Thankfully the rain waited until we reached the shelter, so we were able to cool off and recuperate from the tough race.  Rain just makes puddles and we all know how much kids love puddles.   The kids who joined the race had a great time playing in the park and running in the rain.
Our program is beyond blessed to be supported by such a great community.  We thank each and every racer for showing up to support the kids of Johnson County.  We would also like to thank the following sponsors for their generous donations and for helping us make this race happen.
Double D Ranch, ANB Bank, Crazy Woman Liquors, Big Horn Co-op, Cotant Family Dentistry, Wyo Realty, KL&A Engineers, State Farm Insurance, Action Auto body & Paint, Buffalo Computer Consultants, B2 Lawn care, North Wyoming Insurance, Buffalo Veterinary Clinic, Accounting By the Book, and First Northern Bank.
A huge thank you to Southside Grill for the grub, and Pepsi for the soda! Hats off to Lynne Young and the Really Something String Band for sharing your talents.  Ace Hardware, Farm Bureau, and Buffalo Physical Therapy, we thank you for your donations!