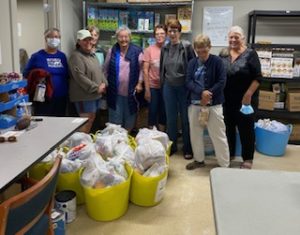 In the heart of Johnson County, there's a group of incredible individuals who've come together to make a real impact on their community. They're known as the TOPS/BETA group. Today, we want to express our deepest gratitude to this fantastic group for their invaluable contributions to Johnson County Friends Feeding Friends (JC-FFF).
What is TOPS?
TOPS, which stands for Taking Pounds Off Sensibly, is an international nonprofit organization that's been making waves since 1948. They bring individuals from all walks of life together, fostering a supportive community that's focused on healthy living, weight management, and overall well-being. Members come together to share their experiences, offer encouragement, and engage in activities that promote a healthier lifestyle.
But there's more to the TOPS group than just shedding pounds. Their spirit of community and support extends to giving back to the very communities they call home.
So, today, we want to extend our heartfelt thanks to the TOPS/BETA group for their unwavering dedication and their commitment to making a positive impact in Johnson County. They have been helping fill bags for JC-FFF since 2018.  You are shining examples of what's possible when individuals join forces to support those in need, and your efforts are truly appreciated.
In a world where small acts of kindness can make a world of difference, you've shown us the incredible power of community, and we couldn't be more grateful for your involvement in JC-FFF. Thank you, TOPS, for filling our weekend bags with not just snacks but also with hope, care, and a sense of togetherness. You're making a real difference in the lives of the children and families in Johnson County, one snack pack at a time.